Roll over or click image to zoom in
Remy Halo Human Hair Piece With Adjustable Fish Line Dark Brown Invisible Wire Hair Extensions #4
customers are viewing this product
Specifications
Brand: LaaVoo
Material:100% real human hair
Color: Darkest Brown #4
Hair Type: Straight Halo Hair extensions Remy Human Hair.
Width: Hair width:11 inchs Wire length: 10inch.
Quality: Tangle Free Shedding Free, Silky Feeling, Soft Hair;
Hair Quantity: 14"-18" 80grams
20" 100grams
Texture: Can be straightened, permed, cut, washed, Can be dyed in darker color only !!!

As a rule of thumb, the Halo should sit comfortably around the crown of your head. It should gently touch your head, and should not move when you shake your head.

When adjust the wire, position your halo over your bun where you parted your hair. Like a headband, it should sit comfortably and securely above your ears.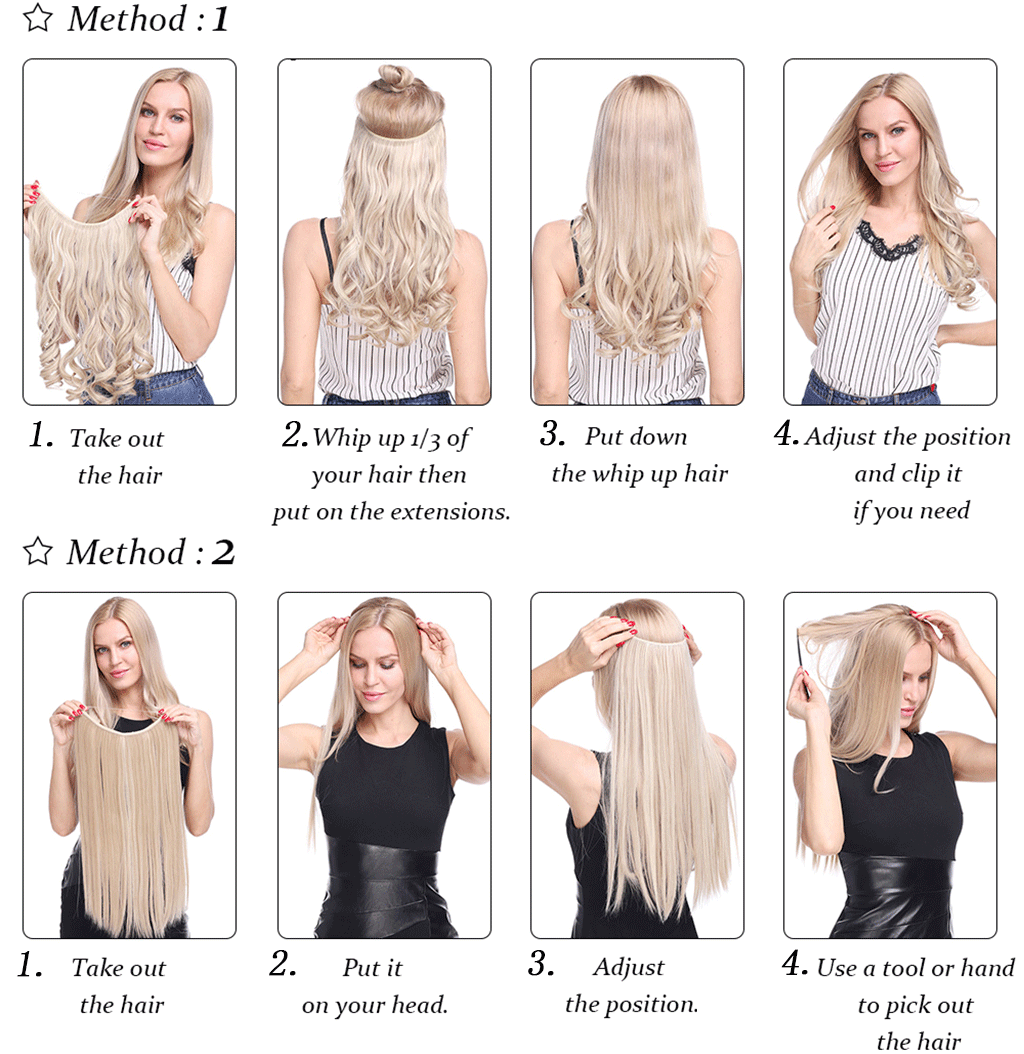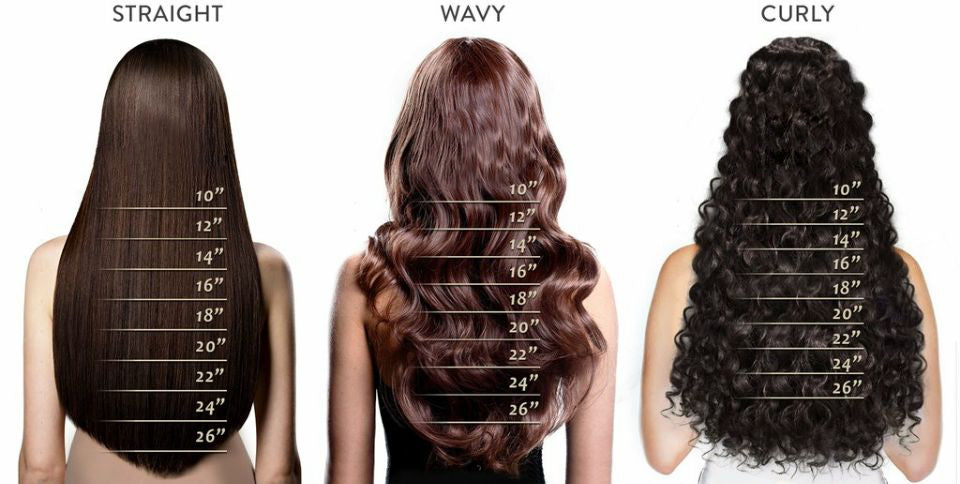 Q: Is the Halo wire damagingmy own hair?
A:No, Halo Extensions are a non-damaging way to add instant length and volume to your natural hair.There no glue or tape in hair, so no damage to your hair, easy to use and remove.
Q:How does the Halo wire Invisible ?
A:Since the Halo wire is thin and clear its virtually undetectable in your hair! Youll also add a layer of hair over the wire to conceal it.
Q:Will the halo hair fall out ?
A:No, the Halo extensions will not slip or fall out of your hair if applied correctly. We added the extratwoclips on either side of the weft for added securityif needed. After you apply the Halo, the weight of your hair laying on top will also help keep it in place. You can whip your hair back and forth without any worries of the extensions falling out!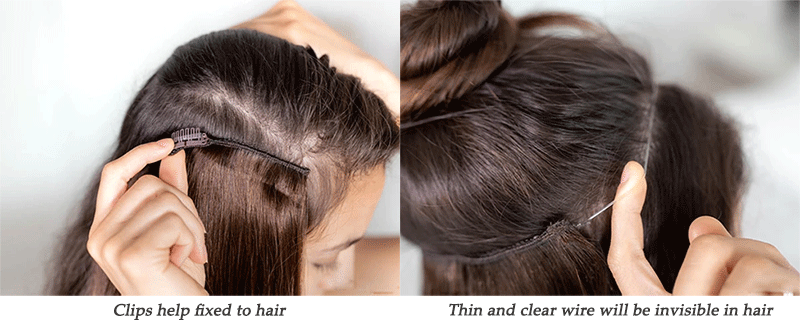 Q:I dont know which color is right for me.
A:You can take photos about your own hair and send to email:laavoo@yahoo.com. We will match the best color for you.
Q: I have short hair. Can I wear Halo extensions?
Halo extensions are best for those who have below shoulder length hair and have a thin or medium hair type.We do not recommend the Halo extensions for those with short hair as you will need more pieces of hair like per-bonded hair, tape in hair extensions or clip in hair extensions to create a seamless blend.
Q: CanIDyetheHair?
A:Yes,thehaircanbedyedasitishumanhair.Butthereisageneral rule that lighter hair is more likely to dye dark hair. And we suggest you to ask the hair stylist to dye for you. Always try a small stand of hair first when you dye it.
Q:CanTheyBeStraightened,CurledorTongued?
A:Yes,youcanstraightenandcurlthehairasyoulike.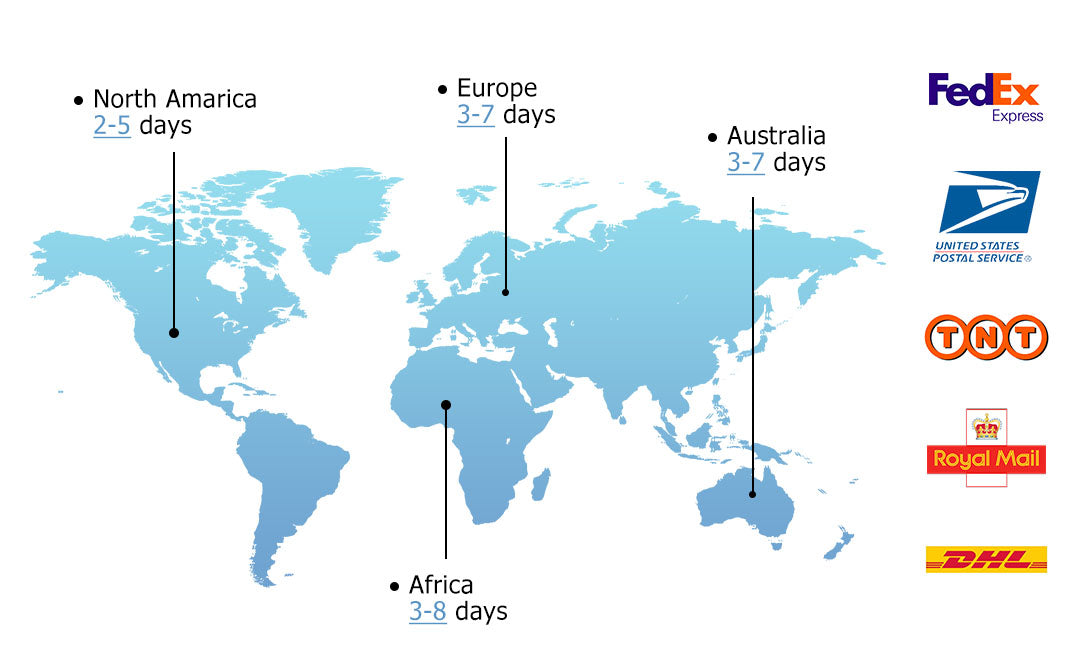 The standard shipping is via China post. Usually it will take 10-19 business days to arrive. Order more than $90 will shipping via free DHL or FedEx. Usually it will take 3-5 business days to arrive.
New Product Online! All product pictures are taken by LaaVoo. When choosing color to match your hair, there may be a slight color difference caused by the light different. If you are not sure the color, welcome to contact us.

Unconditional Refund within 30 days you received the product. But please make sure the product and the Box is Not Damaged .If you do not like the product, please contact our LaaVoo Hair before you return it.

LaaVoo Hair is a company focused on the customer experience and product quality. And we have our own factory, so we also accept customized products. If you have any questions, please feel free to contact us.
LOVE OUR HAIR, ENJOY YOUR LIFE!
Shipping Service:
1. Free Shipping Service
①For most countries, when the order over $79, you will enjoy free expedited shipping
②Free standard shipping only applies to USA addresses now.
2. Pay extra to get fast shipping
If your order not over $79 or not the place where enjoy free shipping, you can select the expedited shipping on the checkout page to enjoy fast shipping. Generally $18, part of countries has lower or higher shipping fees.

We offer worldwide shipping except for several countries!
*EU changes the VAT law. From July 1st, every international package that ships to the EU will be tax. Please pay attention to the message from the Custom and pay for the tax in time.
Shipping & Delivery Times:
After you place the order, we need time to prepare the product. Generally, we will send the hair out in 24 hours unless there is a fraudulent warning or shipping address error. We don't ship during weekends or Chinese holidays.
Standard shipping: Takes 10-19 days on the way.
Expedited shipping send by DHL FedEx or TNT: Generally 2-7 days on the way
All prices on the website include FREE express shipping*. Your hair extensions are shipped from our warehouses located in either China, the US, or the UK.
Wan to know more about the shipping service, click here to check.
Return Service:
30-Day Return/Exchange Policy:
To ensure that each customer can enjoy pleasant shopping without worries, we support 30 days easy return for exchange hair or refund. If you want to return/exchange for some reasons, or have any requests about hair, please learn our return policy and contact service@laavoo.net to serve you.
Return / Exchange Conditions:
1.The hair should not be used. We don't wish our hair was used for a short time enjoy and be returned after use.
2. The hair doesn't accept return after dyed. Our hair has been color altered and processed. We don't accept returns if the hair has been second colored.
Also, the hair can't be cut or destroyed. If it's our quality problem, we will take responsibility for that. If you have damaged hair and withhold this information, we will no longer provide after-sales service.
3. We only accept returns who communicate with us, telling why and what you want to return, and we will note your information. We will offer after-sales service to you to solve all of your problems. We don't want to receive a return that can't match any return record.
Once the goods are dispatched, order cancellation and rejection are not supported, and we will not bear the costs incurred.
If you no longer need this order, please contact customer service in time to provide you with a solution.
4. If you return for a full refund, we can't refund the shipping fees. Because we actually have offered the shipping service which you paid.
5. Don't return if you keep the hair over 30 days. After 30 days you received the hair, the package couldn't be returned cause the keep status might let the hair bad situation. When you get the hair, please check if you will keep the hair as soon as possible that early.
These conditions won't happen if we communicate well and understand each other. We always wish you have a pleasant shopping even you don't need it anymore.

Want to know more about the return& refund service, click here to check.
Have question? Ask an Beauty Expert