LaaVoo
6"*7" Mono Topper For Women Remy Human Hair Piece Toupee Dark Brown #4| LaaVoo
We will ship to you within 20-30 days of your order. If you need it urgently or need it before a certain time, please contact us before placing an order to avoid delaying your business. In addition, the 6*7 mono topper is a customized product and can not be sold again, so refunds and exchanges are not accepted. Hope you understand.
Specifications
Material: Hand Made 100% Remy Human Hair
Hair Length: 12 Inch-20 Inch
Hair Color: Dark Brown #4

Mono Silk Base Size: 6"×7"
Texture: Straight but can hold a curl or wave (using heat styling tools)

Details of Hair
Our hair topper using 100% real human hair and made by hand-stitched, are high-quality hair products, looks very natural. If you are troubled by severe hair loss, this topper is the best choice for you. It provides ultimate coverage, the widest base, restores volume to your scalp. Made with a breathable base for unwavering comfort and long lasting wear.
Allows multi-directional parting Monofilament
For use with adhesive
Pressure sensitive clips prevent slippery and provide a secure hold
Why Choose LaaVoo Topper
The advantages of our hair topper:
Made of 100% human hair, Hand-made mono base.

Thick Topper with high density, gives you a natural look top line.

Restylable: Can be dyed, curled or straightened like your own hair.

Perfect for slight hair loss, thinning hair, gray hair in crown, damage in hair topper, allergic to dyeing.

The mono base looks just like real human scalp. No one will find your secret.

Easy to wear and remove with four clips for security. Stay firmly in place all day long.
If you are facing these issues:
Poor hair quality
Difficult to manage
No time to wait at barbershop
Allergic to dyeing
The gap in the hair is wide
With messy, damaged, grey, thin hair
When you are troubled by these problems, topper will perfectly solve these annoying things for you.

How to Wear Hair Topper
Identify the front and back of the hairpiece,and open all clips from the wig.
Find a right spot and place it above the hair loss area and secure the front hairpin.
Press lightly on the top of it and find a balance ,then secure the hairpin at the back.
Design your favorite hairstyle.
For details, please refer to the picture below, remember to choose the length that suits you.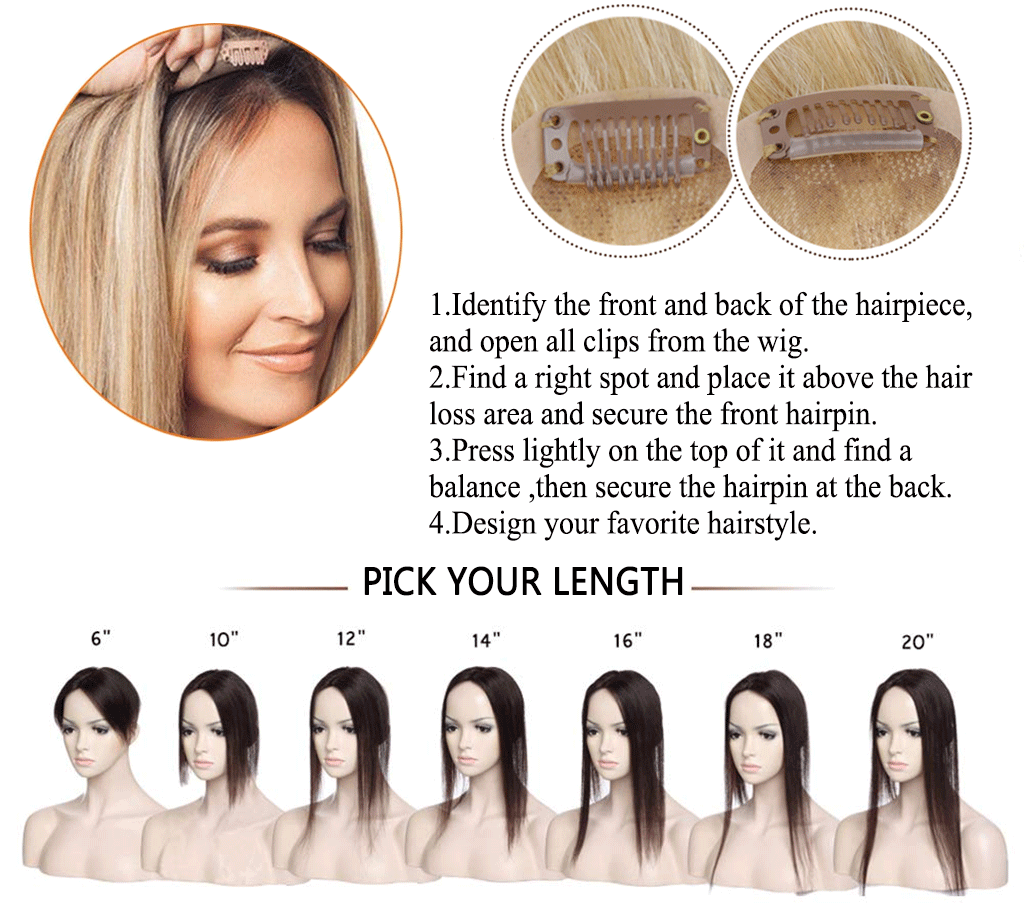 Tips of How to Care Hair
Hair extensions care instruction:
1. Wash in cold or warm water.
2. Add a little mild Shampoo and hair conditioner then wash gently.
3. Rinse thoroughly in cold water.
4. Do not brush when wet and set on a flat towel and let them dry naturally.
Question & Answer
Q: Can I Dye The Hair?
A: Yes, the hair can be dyed as it is human hair. But there is a general rule that lighter hair is more likely to dye dark hair. And we suggest you ask the hairstylist to dye for you. Always try a small stand of hair first when you dye it. The hair doesn't accept bleached.
Q: Why The Color Seems Not Exactly Like The Pictures Show Or The Description?
A: Because different monitors have different displays, the same color may have a little color difference, even the same color number may have little difference. For the final color please refer to the real goods.
Q: I Don't Know Which Color Is Right For Me.
A: You can take photos of your own hair and send them to email: service@laavoo.net. We will match the best color for you.
Q: How Long Do The Extensions Last?
A: General speaking the hair extensions can last for 7 to 9 months. And your personal care also matters the life of the extensions. In a word, the more you look after them the longer they will last.
Q: How Long Will It Take For Me To Receive The Items?

A: Generally speaking, Expedited shipping send by FedEx expects to take 3-5 business days. Standard shipping expects to take 10-15 business days. If you want to know the express delivery methods and charging standards in different countries, please check our Shipping & Delivery Policy.
Checking More questions& answers on FAQ Page.
Please don't hesitate to contact us about your problems. We will try our best to make every customer a happy shopping experience on LaaVoo.
Follow Our Social Accounts to get more hair information:
LaaVoo hair extensions are made with 100% Real human hair which can be styled and washed just like your own hair. With proper care hair extensions can lasts 6-12 months or more, depending on the amount of wear too. Keep in mind, the more you wash and heat style your extensions, the shorter their lifespan will be. Try to keep washing and product use to a minimum and follow our recommended at-home, expert hair care tips below.
Avoid shampoos and conditioners that contain parabens and sulfates.
For "Stylist Method" hair extensions wash 2-3 times per week; For "DIY" hair extensions wash every 5 wears.
Unlike your own hair, hair extensions don't have a natural hydration source from the oils on your scalp. To hydrate, apply a moisturizing hair mask 1 time per week. Apply a mask from mids to ends of hair only, never at the scalp. 
Allow hair to air dry whenever possible to minimize heat exposure and damage. 
Before applying heat, use a heat-protecting spray.
Brush your hair 2-3 times a day to keep your extensions tangle-free. 
Never sleep with wet hair. 
To let the package arrive at you successfully, there are some tips that wish every dear customer pay attention to:
Please confirm if the address is correct, especially take care if the postcode can match your city.
Po. Box address only suits standard shipping, if you want expedited shipping, please change it to your detailed street address.
Expedited shipping by FedEx is shipped without Signature Confirmation after covid, which may cause the package lost. If you are not home and no one can get the package for you upon delivery, please contact FedEx to appoint a delivery time. Or you can change the address to another place.
We will ship from China . International shipments may be subject to import duties & taxes. As these charges vary from country to country, we can't calculate them in advance, and you will be responsible for any changes that might occur.
Any question, please contact service@laavoo.net
Shipping & Delivery Times:
After you place the order, we need time to prepare the product. Generally, we will send the hair out in 24 hours unless there is a fraudulent warning or shipping address error. We don't ship during weekends or Chinese holidays.
Standard shipping:
Takes
10-15 business days
on the way.
Expedited shipping
send by FedEx: Generally
3-6 

business days
on the way
 All prices on the website include FREE express shipping*. Your hair extensions are shipped from our warehouses located in either China, the US, or the UK.
Back Orders:
A Back order occurs when there is an influx of orders that surpass our supply of items. When this occurs, we will notify you immediately and you will have a choice of:
Waiting for your item until we receive more inventory.

Switching out your item for a different color or style.

Remove the item from the order.
*Any orders with Fraud alerts will not be shipped until all details and information are verified. No exceptions. We have a fraud prevention system to protect every party.
Tracking Your Package: 
      All shipments have real-time tracking and verified tracking numbers so you can track your items 24/7 with delivery confirmation. When we fulfill your order, we will send emails to inform you that. You also can check that on your order page to track your package.
      If there is a problem with your tracking number or package delivery, please contact the courier directly prior to contacting us. Please allow 1–4 days for the tracking information to show. In some rare cases, the tracking information may not update but you will still receive your order. Please contact us after the estimated delivery time. Please contact us only AFTER you have spoken with your courier for assistance. 

     Sometimes the mail courier can get delayed by a few hours so plan your hair appointments in advance.
We can't control shipping. We process and ship the orders daily. Although it is rare, orders can be lost or delayed due to weather and other uncontrollable forces by the mail courier. We cannot be responsible for these delays. Our most trusted and reliable shipping courier is FedEx,  DHL, USPS.
Want to know more about the shipping service, click here to check.
30-Day Return/Exchange Policy:
        To ensure that each customer can enjoy pleasant shopping without worries, we support 30 days easy return for exchange hair or refund. If you want to return/exchange for some reasons, or have any requests about hair, please learn our return policy and contact service@laavoo.net to serve you.
Return / Exchange Conditions:
The hair should not be used. We don't wish our hair was used for a short time enjoy and be returned after use.

The hair doesn't accept return after dyed. Our hair has been color altered and processed. We don't accept returns if the hair has been second colored.

Also, the hair can't be cut or destroyed. If it's our quality problem, we will take responsibility for that. If you have damaged hair and withhold this information, we will no longer provide after-sales service.

We only accept returns who communicate with us, explaining the reasons for their return and specifying the items you wish to return. Additionally, please provide a clear photograph of the received product. Once this information is received, we will proceed to document your request. We will offer after-sales service to you to solve all of your problems. We don't want to receive a return that can't match any return record. If you no longer need this order, please contact customer service in time to provide you with a solution. Please do not send the products back privately. We will arrange the nearest warehouse according to your location. It may not be possible to return the goods normally if the goods sent back privately, hope you understand and support.
        Once the goods are dispatched, order cancellation and rejection are not supported, and we will not bear the costs incurred.
       5. If you return for a full refund, we can't refund the shipping fees. Because we actually have offered the shipping service which you paid.
       6. Don't return if you keep the hair over 30 days. After 30 days you received the hair, the package couldn't be returned cause the keep status might let the hair bad situation. When you get the hair, please check if you will keep the hair as soon as possible that early.
These conditions won't happen if we communicate well and understand each other. We always wish you have a pleasant shopping even you don't need it anymore.

Prepare before return the hair back:
Please note your order number (Looks like LV19 ****) in the package so that we can match your order information as soon as we receive the return. If you want an exchange, please note more details about where is wrong, what hair you want.

Try to restore the look when you received the package.  Put the hair in the pack, and avoid excessive crushing of hair. Try to keep the product comfortable on the way back.

It's very important to CONTACT WITH OUR CUSTOMER SERVICE STAFF. We will wait for your message and reply to solve your problem. Any problem, please contact our customer service first, we will offer you the best way to do it.
You are so kind to do this to let the return easy for both of us, love your kindness!!!
Shipping cost for returned packages:
Depending on the different real conditions, we won't afford to return fees for every return. We only afford return fees for the following cases:

Return due to the hair has quality problem, you want to return for exchange hair or just full refund.

You ordered A, we send B. We send the wrong hair to you, including the wrong color, length, or size. If you want to return for exchange right hair or just want a full refund, we will afford the return shipping fees.

After good communication, we have reached an agreement and we are willing to pay the returned freight.
*About restock fees:
If the original package is correct and you want to return the package for exchange or refund, the restock fees are needed. The fee is 5% off the order amount.
Refund/ Exchange Time:
     Returns will be refunded to the original form of payment within 1-3 business days after we receive your return. Please allow 2-3 business days after your return is received at our Returns Center for processing.
     If you need the refund/ exchange in a very short time, please contact our email, our customer service will communicate to help you try to get faster speed.
Exchanges:
     When you order hair online, you might have chosen the wrong hair. Wrong length, color don't match, size not fit, etc. It's never a problem to exchange the right hair as long as you contact us in time. Our return policy ensures that both parties feel fair and satisfied during the exchange process.

      Please note, however, when starting the return policy, both parties will have certain losses in terms of time and money. This is inevitable. Please consider carefully before placing an order. So that we won't regret the lack of consideration and be willing to bear the corresponding exchange losses.
Order Alterations:
      Once an order is placed our team works quickly to process the order in a timely manner. If you need to make a change to an existing order you must do so before the item leaves our office. Once an order is shipped out, changes cannot be made to the order. You will need to go through the return/exchange process.
Discounts:
       With any promotion, only one can be applied to each transaction. For promotions with a coupon code, the coupon code must be entered at check out.