Description
Specifications
Material: 100% Brazilian Remy Human Hair
Hair Color: #Black, Brown, Blonde, Multi Colors.
Weight: 80-100 Grams Per Pack
Extensions Type: Hair bundles, double weft and ready to apply
Lifespan: Keep healthy for 2 months to 4 months.
Want higher quality hair with a longer one-year lifespan, checking Virgin Machine Weft.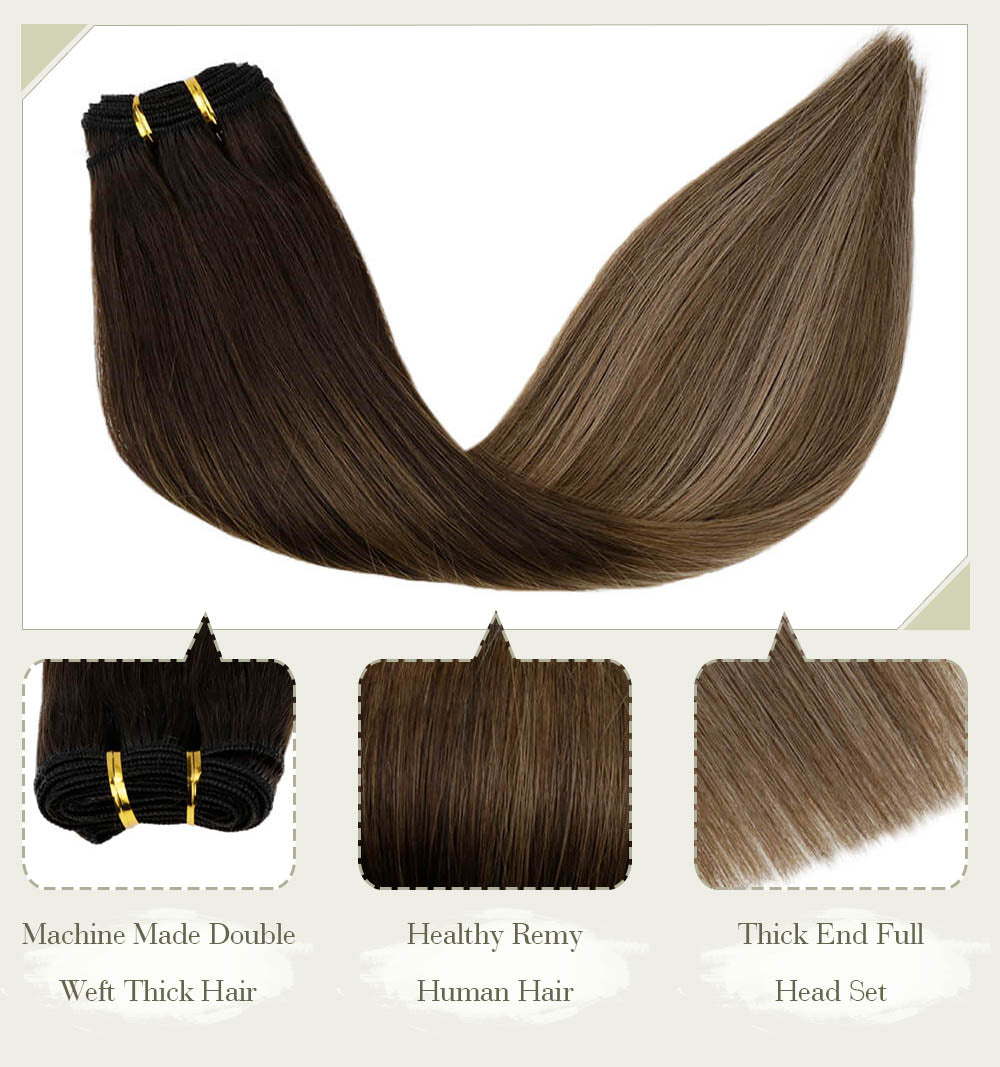 3 Ways to Apply Hair Bundle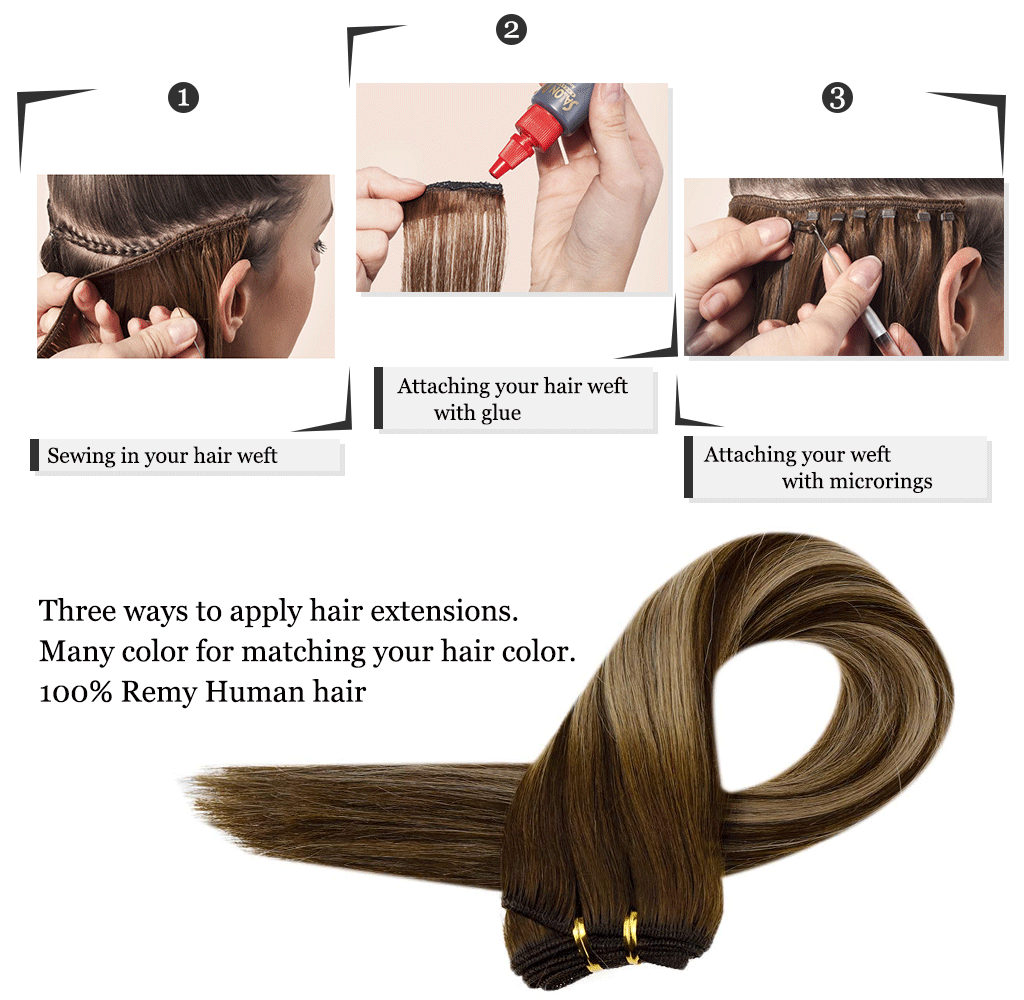 Hair wefts allow you to choose your attachment method. The hair weft comes in a curtain-like shape with a double-weft that can be used with methods such as weaving, micro-rings, glue, or clips, according to your needs and wishes.
For more convenience use, we offer Halo Hair and Beads Weft that ready to install.
Choose Length
Hair Care Tips
1. Our hair accepts curly and straighten. If you want to make heat styling, it is best to use heat protection products beforehand. Take out and replace attachments that have slipped or grown out, or that appear to need refreshing. Always use the remover/removal accessories to avoid damage to your natural hair.
2.If possible, keep your hair in braids while you sleep and exercise. This will help make sure your hair won't tangle -- and you'll also get nice waves by morning. Win-win!
3. Brush and sleep with dry hair.
4. Weekly check-Go over your entire head, straightening any attachment and detangling any knots that may have appeared on the scalp. Brush out your hair. Wash your hair and let them dry.

Color Reference
Pay attention to the color match:
Different production batches will result in minor deviations in the final dyeing effect.
The different blend colors will vary depending on the production plant.
This image serves as a rough selection guide. The specific color is subject to the introduction of each product.
If you are not sure which color matches you best, please send your hair pictures to us.
Email: service@laavoo.net
Checking Virgin Human Hair Weft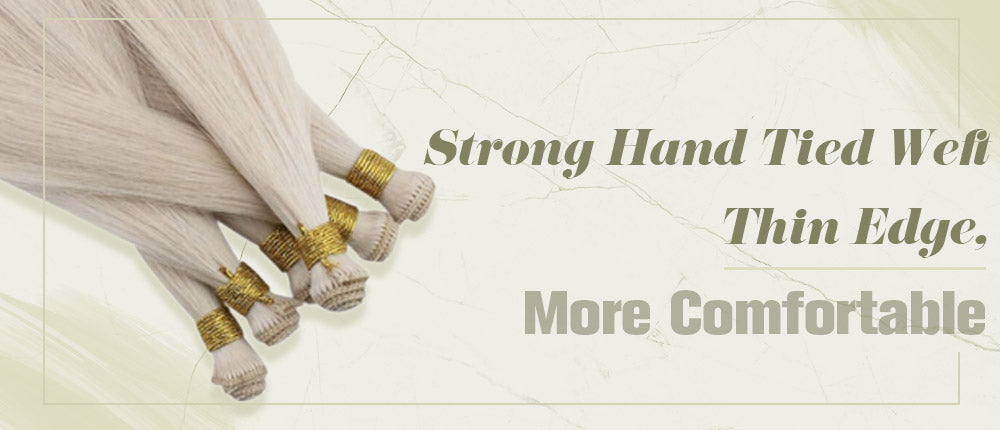 Question & Answer
Q: Can I Dye The Hair?
A: Yes, the hair can be dyed as it is human hair. But there is a general rule that lighter hair is more likely to dye dark hair. And we suggest you ask the hairstylist to dye for you. Always try a small stand of hair first when you dye it. The hair doesn't accept bleached.
Q: Why The Color Seems Not Exactly Like The Pictures Show Or The Description?
A: Because different monitors have different displays, the same color may have a little color difference, even the same color number may have little difference. For the final color please refer to the real goods.
Q: I Don't Know Which Color Is Right For Me.
A: You can take photos of your own hair and send them to email: service@laavoo.net. We will match the best color for you.
Q: How Long Do The Extensions Last?
A: General speaking the hair extensions can last for 2 to 4 months. And your personal care also matters the life of the extensions. In a word, the more you look after them the longer they will last.
Wondering how to get a longer lifespan of hair extensions, check our Care Hair Blog to know more.
Checking More questions& answer on FaQ Page.
Warm Tips:
1.Remember DO NOT wash hair within 48 hours after wearing hair extensions.
2.Take extra time for hair care. Remember, extra hair means you'll take a longer time in the shower.
Shipping
Checking Shipping & Delivery Policy.
Please don't hesitate to contact us about your problems. We will try our best to make every customer a happy shopping experience on LaaVoo.
LOVE OUR HAIR, ENJOY YOUR LIFE!
Payment & Security
Your payment information is processed securely. We do not store credit card details nor have access to your credit card information.
Flattering color. Quality long lasting!
Great quality hair and amazing price!