What is Injection tape in hair extensions
Tape-in hair extensions are the most popular hair extension method in the world and our best-selling, semi-permanent stylist method.
Injection tape-ins are designed as the most undetectable tape-in, making them perfect for fine or thinning hair. Our Injection Tape in Hair Extensions is designed to mimic hair growing from the scalp. Even if you have super fine hair you cannot see where the tape-ins have been installed which is why they're considered the most invisible tape-in hair extension in the world. It's made extra-thin invisible for a more natural-looking and discreet extension than ever before and can be installed in less than an hour.
And our injection tape in hair extensions using 100% virgin human hair, so it can last 6-12 months. And they can typically be reused up to 3 times making them a great investment.
Specifications
Material: 100% Virgin Human Hair
Weight: 2.5g/piece| 5 Pieces Per Pack| 12.5 Gram
lengths: 14 inches - 24 inches
Adhesive wefts: 4 cm x 0.8 cm
Lifespan: Keep healthy for 6 months to 12 months.
Recommendation:  Thin hair: 100g-125g (8-10 pks ) ;
Medium Hair: 150g-175g (12-14 pks ) ;
Thick Hair: 200g+ (16 pks+)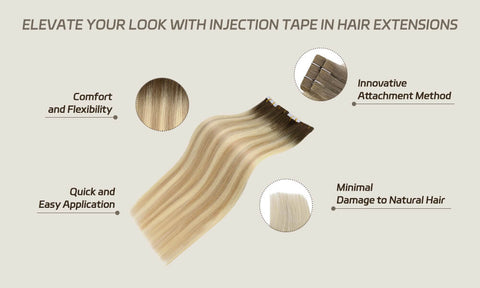 Longer lifespan

: Ethically sourced 100% virgin human hair. Can last a full year with proper care.

Most invisible hair

: Each hair strand is hand sewn into the tape bond to mimic the look of natural hair growth. This unique process gives the illusion the extensions are growing directly out of your scalp.

High-strength tapes & Easy to take out

: Using USA White tape, the tape is non-toxic, medical grade, and removes easily without leaving a mess behind.100% real human hair makes your hair look shinier and healthier.

Cost-effective

: Invisible Tape-Ins can be reused up to 3x, saving your time and money.

Specially designed for people with fine or thinning hair

: If you want to transform your current look with hair that's longer, thicker, and more manageable, Invisible tape ins are the answer.

Super convenient to wear

: The Invisible Tape Ins don't require tools, chemicals, or heat and take about 30 minutes to install.